After lovingly conceptualising and realising your beautiful new bespoke kitchen, the boundless enjoyment of using and taking ownership of this exciting new space awaits. However, during this exploratory time, it is also important to master the art of caring for your one-of-a-kind installation.
As you know, a unique kitchen created by the team here at George Robinson Kitchen is sure to add elegance and timeless beauty to any home. This immense potential is exactly why it is crucial to properly care for and maintain the condition of your cabinetry. In doing so, you will ensure that your impassioned investment is met with stunning longevity and experiential reward.
With these thoughts and your convenience in mind, we have outlined the best practices for looking after and preserving your kitchen below, providing you with the know-how you need to maximise its positive presence within your home and daily life.
Perfecting a Simple Daily Cleaning Routine
When precise craftsmanship meets diligent finishing, the maintenance requirements of a bespoke kitchen are liberatingly minimal. However, basic regular cleaning remains essential for maintaining the appearance and functionality of your tailor-made cabinets and countertops, and the following easy steps should be considered part of your daily routine:
Wipe Down Surfaces: Use a soft, damp cloth to wipe down surfaces, including countertops, cabinet doors, and drawer fronts. Avoid any kind of abrasive cleaners that will damage the paint or wood finish, opting instead for gentle, non-toxic cleaning products instead.

Clean Spills Immediately: Accidental spills should be promptly wiped away with a damp cloth. Liquids, especially those that are acidic or prone to staining, such as wine or oily substances, can penetrate the paint or wood if left unattended, potentially causing permanent damage. For tougher stains, use a soft cloth or sponge dipped in a mild soap solution. Gently dab the stained area without scrubbing vigorously, as this can damage your finish. Rinse with clean water and then dry immediately.

Dry Thoroughly: After cleaning, it is wise to ensure all surfaces are fully dried, as excessive moisture can warp wood and affect the finish. By adhering to these simple principles, you can relish the confidence that your kitchen will retain its beauty in the long run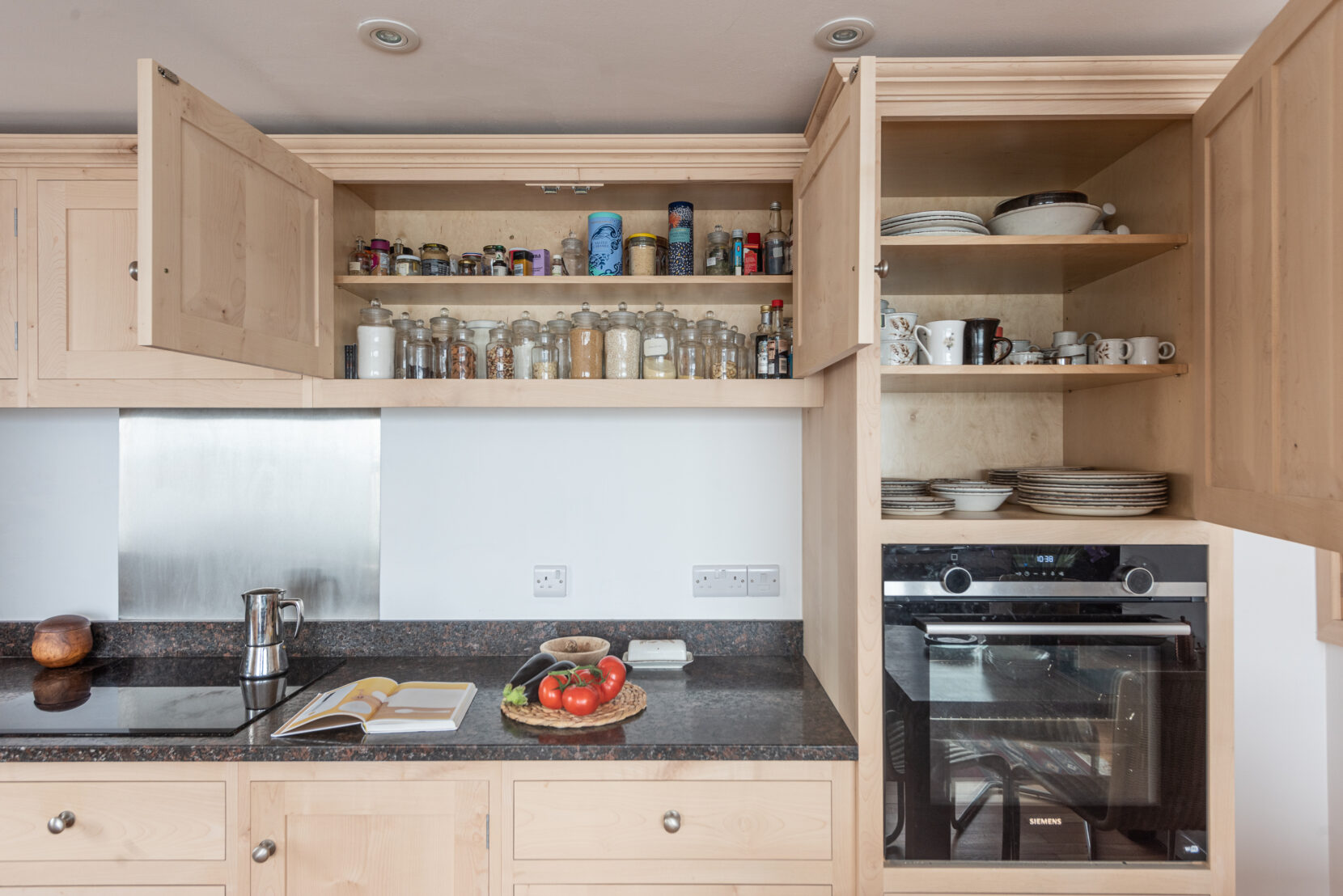 Practice Preventive Measures
Alongside making a habit of daily cleaning, taking a number of proactive care steps will significantly extend the life of your bespoke kitchen. A little wisdom in this regard can contribute to the longevity not only of your kitchen but all fine furniture within the home, so consider the following tips:
Temperature and Humidity Control: Wood can expand or contract with changes in temperature and humidity, leading to warping or cracking. This makes it vital to maintain a consistent temperature and humidity level in your kitchen by using proper ventilation and avoiding exposure to excessive heat or moisture.

Trivets: Keeping trivets to hand and placing them under hot pans or dishes will protect your worksurfaces from heat, moisture, and stains.

Manage Sunlight Exposure: Prolonged exposure to direct sunlight can fade and bleach finishes. We recommend utilising curtains, blinds, or UV-protective films on windows to minimize the impact of sunlight in areas where this exposure is excessive.

Periodic Inspections: It is a good idea to periodically inspect your bespoke kitchen for any signs of damage, such as chipped paint, loose handles, misaligned hinges and runners or damaged wood. Addressing these issues promptly will prevent further deterioration and enable you to maintain your units, keeping them in top condition and therefore increasing the lifespan of your kitchen considerably.
---
As you can see, maintaining your diligently crafted George Robinson Kitchen need not be overly troublesome or time-consuming. In fact, with a little handy knowledge at your disposal, you can gloriously extend both your kitchen's aesthetic and daily enjoyment of its use. By following a simple cleaning routine and implementing preventive measures, you can ensure your cabinetry maintains its elegance and durability for decades. A worthy prize indeed!