Once you have a generous Larder Cabinet in your kitchen, you will wonder how you ever coped without it and if you are currently in the process of designing a complete new kitchen with an enviable larder or planning an additional cabinet to enhance your existing kitchen, then you have definitely come to the right place.
Scan through the fantastic design tips below for some sound advice and inspiration that will assist you in creating the most practical and beautiful larder cabinet imaginable!
#01 List Your Most Regularly Used Items
What items are you constantly reaching for in your kitchen? Make a list of your most frequently used items and groceries and make sure that they are positioned in the most convenient places inside your larder cabinet.
Considering what will go where during the design stage, will give you invaluable insight and help you to create a piece of furniture that is equally functional as it is gorgeous!
#02 Spacing Your Shelves
Whilst shelving is generally adjustable within any kitchen cabinet, it is still important to plan the layout and spacing of your shelves, based on the way you wish to store your items, any appliances and groceries.
Planning is the key to maximising functionality and making your kitchen furniture work as efficiently as possible for you.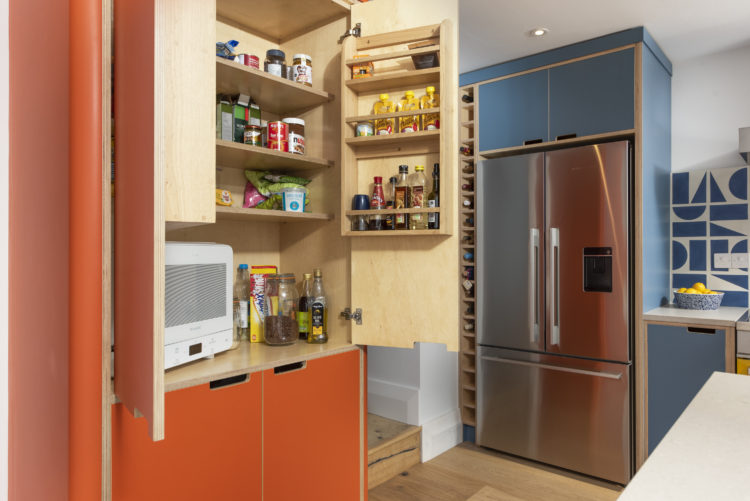 #03 Go Extra Wide
Providing you have the space, you could consider designing and commissioning an extra wide kitchen cabinet that is capable of housing all of your pantry items in one place, along with a fully equipped workstation and preparation area.
Bespoke bi-fold doors will complete this look, resulting in a super functional piece of furniture with a large dose of awesome!
#04 Light It Up
How on earth would we manage without that light in the fridge? Apply the same design principle to your larder cabinet and enjoy the same convenience when accessing items, (this feature is particularly useful for a late night larder raid).
#05 Spice It Up
Spice racks are a great feature to incorporate in your larder cabinet and look fantastic positioned on the backs of the doors. Alternatively, you could house your spices in drawers within the cabinet, at a convenient height.
Consider the shape and size of your favourite spice jars for a perfectly planned fit.
#06 Remember To Include Sockets
With the kitchen being the central gathering point in most homes these days, it makes sense to consider charging points for your phones, laptops and other devices. These could be conveniently incorporated in your larder cabinet.
In addition to your charging points, consider strategically placing electrical sockets inside the cabinet to enable you to use your cabinet as a workstation.
This way, items such as your mixer or microwave can be permanently ready for action without the need to clutter up your work surfaces.
#07 Wine Rack
Every kitchen worth its salt deserves a great wine rack, and you may wish to include one in your larder. A bespoke rack at the top of the larder is often the best use of the space, and you could of course include several racks to house your bottles neatly, (be it for storing wine or any other beverage you are fond of)!
#08 Add Baskets
Bespoke baskets work very well in a larder cabinet, providing useful storage for edibles including bread, fruit and vegetables. (A washable fabric liner is recommended if you plan to use your baskets to store perishable items).
Another great use for baskets is the storage of your tablecloths, tea towels, aprons and table runners.
A Well Designed Larder Cabinet Is A Huge Asset In Any Modern Kitchen
A generous larder cabinet is a huge asset in any modern kitchen. When the doors are open, you have a fully accessible wall of sundries at your fingertips and with the doors closed; your kitchen remains beautifully sleek and uncluttered.
With our useful tips and a good dose of planning and brainstorming, you ought to have everything you need to set about creating the kind of larder cabinet that will enrich your kitchen design significantly!